I'm excited to share our first grade curriculum choices for homeschool. This year I have a first grade son, 4 year old daughter in part-time preschool, and 2 year old toddler in tow. It is turning out to be a wild and fun year!
For a full list of your secular homeschool curriculum options, see our Secular Homeschool Curriculum Guide.
First Grade Homeschool Curriculum Choices
I take my time and ask a lot of questions about the curricula I purchase. I can be a little picky, but it usually pays off. You won't find a big box unboxing on this site, though that does look tempting. I would love to receive one big box of happy mail and be done. However, that's not my style of teaching, nor is it my son's style of learning. So here we are – a big list instead of a big box.
I'm always looking for the same things when I choose curricula. A variety of eclectic, secular materials with great value. I have three kids, so many of the materials I invest in can be used again, have ebook/printable options, or have items that can be "refilled" for a fraction of the initial purchase price.
Made for Homeschoolers
I've come to see the benefits of using materials made specifically for homeschoolers. Although there is a wide variety of curriculum options developed for the classroom, homeschool-specific curricula takes the time to address our needs. Tips and information for parents in plain language and reusable materials are key.
Additionally, homeschool materials usually have a more flexible approach to pacing so you can adjust the teaching schedule to fit your child's needs. The materials I've found have the structure and substance that I want with the flexibility that I need to put them into practice. It can be adjusted up or down to span several grade levels, and can be used with many children at once.
First Grade -ish Curriculum
Maybe my favorite thing about homeschooling (after pajama days) is that when you use an eclectic mix of materials and curricula, you can truly tailor it to your child's interests and levels. For the lady at the grocery store checkout line, he is in first grade. Between me and you – I'm pretty sure grade levels are fiction.
Most of the materials in this list use a placement test to help you select the right level for your child. This is extremely helpful, especially in the early years. In the primary grades, kids learn at all different paces. Some are reading fluently by the end of kindergarten, for example, while others aren't fluent until the beginning of third grade! For first grade curriculum, you might be using "Level B" or "Book C" instead of a book with a big number 1 on the cover. That's totally okay! Actually, it's better than okay! It's better to meet your kids where they are instead of trying to fit them into a particular grade level.
Advice for Choosing First Grade Curriculum
My #1 tip for anyone choosing curriculum: After using a placement test or choosing a level, download the sample or free trial before you buy. If possible, look at your curriculum choices side-by-side to figure out what your daily or weekly routine might look like. Most program samples will give you an idea about how long a lesson will take, how much prep you'll be doing, and the style of teaching – even if you don't sit down and actually teach the sample lesson.
Secondly, you don't need to follow any curriculum line by line. Don't be afraid to combine subjects, skip, rearrange, reorder, and replace activities. Use what works and leave the rest. This is your homeschool. Find something that you love, and make it work for your family.
---
Language Arts
Our language arts program is pretty simple: the focus is learning to read and writing. For this I chose two programs that work well side-by-side: All About Reading and WriteShop Primary. Additionally, we read chapter books together from the library, use a few language arts apps I'll share, and are working on handwriting.
This eclectic mix of curriculum, apps, and interest-based books and poetry works well for us. Most days we'll do about 20 mintues of All About Reading. Then, the other part of language arts can be more flexible – we might be digging into an activity set in WriteShop or heading to the library, reading some beginner books or playing on an app.
First Grade Learn to Read Curriculum
Of all the learn-to-read curriculum we've tried, All About Reading is my favorite. It's a stand-alone reading program that can be paced to your child's needs. The teacher's guide is fantastic, and it is open-and-go. On my son's side – he loves the "real books" that come with the set and the hands-on activities and card games. The best part? When my daughter is ready for this level, we can simply replace the student packet and reuse the rest of the materials.
Lessons take about 20 mintues or a little more, and we work through one a day Mon-Thurs (because Fridays are for field trips!). This is always our first lesson of the day and is a great way to start. The lessons are structured in a way that is consistent but not repetitive. So each day we are playing with the cards, reading a little, and learning something new.
More info about All About Reading: 3 Reasons we Chose AAR for Learning to Read
Or visit the website to take a placement test: All About Reading

First Grade Writing Curriculum
WriteShop Primary is a thorough writing curriculum that teaches in a really creative, hands-on way but that is also simple for me, the parent. One thing that stands out about WriteShop is the flexibility that comes with teaching the activity sets. Since we use an eclectic mix of curricula, it's sometimes hard to get the balance right. Some programs need to be taught every day, but WriteShop is different.
The program is organized into Activity Sets – basically themed units that can be paced according to how long you want to teach. You can set up your schedule to teach writing 3 days a week for instance, if that schedule works for you. There is a unique pacing guide in the front of the Teacher's Edition for planning your schedule (see below). For my son, I can adjust the pace based on his interest level. If he's super excited, we might go through the activity set in a week. Other times (like when the weather is awful), it's nice to slow it down and work on an activity set over time.
As with All About Reading, the main WriteShop teacher's editions can be reused and the first grade activity set purchased separately or in ebook format, making this curriculum a really affordable option for bigger families.
More info about WriteShop Primary: Teaching Writing at Home with WriteShop Primary
Or visit the website to take a placement test: WriteShop Primary
Language Arts Apps
Aside from phonics and writing (and practically living at the library), we also use reading apps. These are fun fillers that I throw on when I'm working, cooking, when the other kids need attention or I just need a break. My son loves his computer time, and I know he's learning while he's playing, so that makes me feel like supermom – even on days I don't get to everything on my list!
Reading Eggs, free 2 week trial – phonics, grammar, & reading games
Epic! Sign up for free – reading, read-aloud, and animated books online

Handwriting, Gross & Fine Motor Practice
If it ain't broke, don't fix it! We are continuing with our Handwriting Without Tears inspired program this year. We focus on gross and fine motor skills over simple handwriting drills. My son has made a HUGE amount of progress over the last year – going from not being able to grip a pencil or hold on to a handlebar to swinging across the monkey bars and initiating writing and drawing on his own. The change this year is that we will be doing a bit more copy work – longer sentences, more tracing and writing, and moving on to the 1st grade Handwriting Without Tears book: My Printing Book. We work on handwriting for about 10 minutes a day right after our reading lesson.
---
First Grade Math Curriculum
We tried several different math programs in kindergarten to find a good fit. What I learned is that for my son, plodding along in a textbook just isn't going to work. This year we are changing it up and using an app along with hands-on materials and math literature.
Smartick Math Curriculum
Smartick is math curriculum in a game-based app. It takes only about 15 mintues a day and is an engaging, fun program that I never feel like I have to force. Since Smartick is a full math curriculum with AI based learning, I know my son is getting the basics and will be appropriately challenged as he levels through the program.
I realize that computer-based math is not for everyone at this age, but for me, it's nice to have one subject off my plate. My son loves math, and I haven't yet found a paper-based program that can keep up with him. That usually leaves me scrambling to figure out, "What's next?!?" By basically outsourcing the core of our math curriculum, it frees me up to teach him about real-world math and enjoy learning math through reading with him.
Smartick has a free 15 day trial. Check out how the program works. It might be a good fit for you as a base math program (like we're using it) or as a supplement.
Math Literature
We will continue adding Math to our read aloud time and bedtime stories with Sir Cumference and Bedtime Math along with many of our old favorites and whatever new titles we discover in the math section of the library! Did you know the library has a math section?!? Find 110 Math Literature Books for Early Elementary that will introduce math concepts and help you find math in everyday life.
---
First Grade Curriculum: Electives
I'm pretty focused on the basics as far as curriculum – reading, writing, and math. This year instead of adding more daily curriculum to the mix (which can get a bit overwhelming the more you add), I've decided to focus on a more interest-led approach to electives (for lack of a better word).
Our Monday-Thursday routine has us working on language arts and math in the mornings and exploring electives in the afternoons – science, social studies, PE, and the arts. This is a really enjoyable rhythm for us. My son is most focused in the mornings, so that makes our LA "table time" a little easier for him and his computer time more productive. In the afternoons we either plan something or have time to just explore.
Plus, my daughter is in half-day preschool this year. We have quiet, focused time in the mornings, and in the afternoon she can join us for hands-on, play-based fun. We also use Fridays, when my daughter is off, for field trips exploring museums, parks, and landmarks around our city. Here is what we've got cooking for science, social studies, PE, and the arts.
Science & Social Studies
These are two subjects that my son just loves. Kindergarten was all about people, culture, animals, and habitats around the world, so he has a good base to build on. In addition to our field trips we read and watch videos related to his current interests and have been working on building his timeline while paging through the Usborne World History Encyclopedia and doing some hands-on science with MEL Kids (a subscription box with VR and AR lessons for ages 5-9).
A couple resources for focusing on interest-led science and social studies in first grade:
7 Science Resources to Engage, Excite, and Inspire Your Child
EASY Accordion Timeline Tutorial with Video
Music – SQUILT
My son expressed some interest in learning an instrument this year, but I'm not ready for that level of commitment! We are starting with Meet the Instruments from SQUILT. I love this program because it is not a week-by-week curriculum. There are instrument flash cards with ideas for games and activities and a slew of videos to listen to and learn from. Just what I was looking for – something flexible that will catch his interest.
This is fun to pull out in the afternoons. Both of my kids can watch the videos and play the games. Plus, it's really cool to see them starting to identify instruments by sound and really loving the orchestra!
Homeschool Art with Chalk Pastels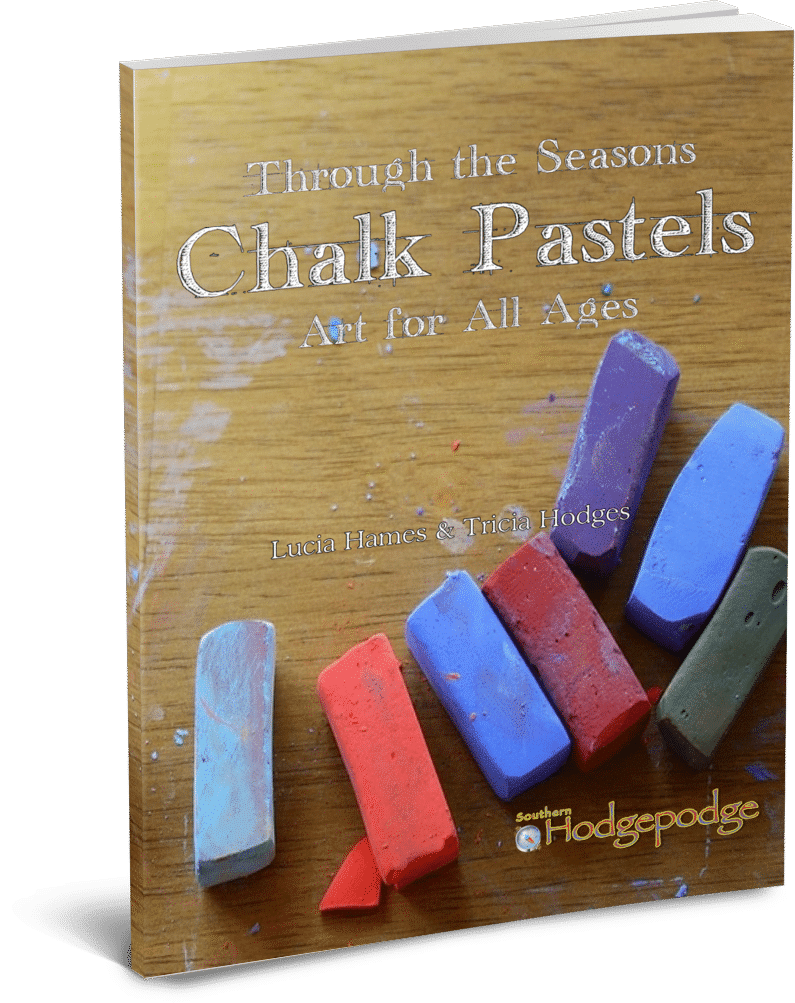 I'm using Chalk Pastel, You Are an Artist for art this year. I'm excited to work on a few art projects, talk about what art is, visit museums, and see real art. Last year we spent so much time just working on crafts and motor control. This year we get to explore!
This is a nice program with project ideas that are easy to get going – and are a step above just drawing a picture with crayons! Download a free getting started guide from Chalk Pastel.
---
Physical Education
I feel like homeschool PE gets left out a lot of the time. For us, it's important and needs to be more focused than simply playing on the playground. My son is working on improving his gross motor skills and balance. These can be a real challenge for him. I outsource throughout the year by signing up for swimming and gymnastics classes. We'll also be continuing using Cosmic Kids Yoga. The kids LOVE it, and it gets them moving.
For more ideas about how to intentionally incorporate PE into your homeschool routine:
Homeschool PE: How to +10 Ideas to Get You Started!
---
That about wraps it up. I'm so excited to get into first grade. It was my favorite grade level to teach back when I was a teacher, and I just love this age!
"Doing school" will flow into the late afternoon and be part of our bedtime routine. We will learn on weekdays and weekends. We will follow the plan and other times completely disregard it.
It's going to be a fantastic year!
For curriculum options check out our Homeschool Curriculum Guide.

And for a side-by-side comparison of ten top phonics programs see our Phonics Curriculum Guide post.
Ashley helps parents who want to homeschool find the resources they need to successfully teach their children. Ashley is a former teacher, current homeschooler, published author, and designer behind Circle Time with Miss Fox printables as well as the creator of this website, The Homeschool Resource Room.