I'm excited to share our first grade homeschool curriculum choices along with a few links and special discounts I've gathered for you!
For a full list of your secular homeschool curriculum options, see our Secular Homeschool Curriculum Guide.
First Grade Homeschool Curriculum Choices
I take my time and ask a lot of questions about the curricula I purchase. I can be a little picky, but it usually pays off. You won't find a big box unboxing on this site, though that does look tempting. I would love to receive one big box of happy mail and be done. However, that's not my style of teaching, nor is it my son's style of learning. So here we are – a big list instead of a big box.
I'm always looking for the same things when I choose curricula. A variety of eclectic, secular materials with great value. I have three kids, so many of the materials I invest in can be used again and/or can be used for multiple levels.
Made for Homeschoolers by Homeschoolers
I've come to see the benefits of using materials made by homeschoolers. Most of my choices this year were created by homeschool moms for homeschool moms. Before teaching their own children, these women were successful educators or in another field of expertise. I'm happy to support women in business as well as my homeschooling peers by purchasing curriculum designed by homeschool moms.
The materials I've found have the structure and substance that I want with the flexibility that I need to put them into practice. Unlike the glossy and polished curricula mass produced for public schools, these products come as a simple manual that can be used again with younger children. It can be adjusted up or down to span several grade levels, and can be used with many children at once.
1st Grade-ish
Maybe my favorite thing about homeschooling (after pajama days) is that when you use an eclectic mix of materials and curricula, you can truly tailor it to your child's interests and levels. For the lady at the grocery store checkout line, he is in first grade. Between me and you – I'm pretty sure grade levels are fiction.
Some of the materials I'm going to share with you have a big 1 on the front, but not all of them do. If he says it's too easy, we look for something harder. If it's too hard we pull back for a while. We're doing first grade-ish this year.
Advice for Choosing Curriculum
My advice for anyone choosing curriculum: Take your time, think about your goals, download samples and trials to see what a week would look like, and ask a lot of questions. Your choices will guide your homeschool, but don't let them rule it!
You don't need to follow any curriculum line by line. Don't be afraid to combine subjects, skip, rearrange, reorder, and replace activities. Use what works and leave the rest. This is your homeschool. First, find something that you love. Then, make it work for your family.
---
View / Print your enrichment pack here.
---
Language Arts
Brave Writer

Writing, Poetry, and Nature Studies
We will be working our way through Brave Writer's Jot it Down. This includes ten projects – one a month for the school year. We'll also be incorporating many of Julie Bogart's ideas about creating a Brave Writer lifestyle – weekly Poetry Tea Time and nature walks, read alouds, movies, and music.
I fell in love with Brave Writer after a friend encouraged me again and again to check it out. Thanks, A.M.! At first I tried to DIY a program similar to Brave Writer by implementing some of the ideas in the podcast, but last year was a year of DIY-ing way too much. I'm excited to have a bit of structure to lean on with Jot it Down.
This program is truly great if you're looking for support for a flexible, child-led approach to your homeschool. Julie offers a lot of encouragement and support. Download samples and explore the blog and podcasts.
---
Handwriting Without Tears… on a Budget
Handwriting, Gross and Fine Motor Practice
My first rule in choosing curriculum: If it ain't broke, don't fix it! We are continuing with our Handwriting Without Tears inspired program this year. We focus on gross and fine motor skills over simple handwriting drills. My son has made a HUGE amount of progress over the last year – going from not being able to grip a pencil or hold on to a handlebar to swinging across the monkey bars and initiating writing and drawing on his own.
The major change this year is that we will be doing a bit more copy work – longer sentences, more tracing and writing, and moving on to the 1st grade Handwriting Without Tears book: My Printing Book.
---
Build Your Library
Language Arts and History

Another program that we loved for kindergarten and will continue using is Build Your Library. This is a full Language Arts and History program that begins with Ancient Times and Mythology and continues on with the four year cycle.
I love it because it is a secular and very flexible Charlotte Mason inspired guide that provides a framework for us to build on.
I plan on adding quite a bit to it again this year with playlists, picture books, movies, and other online resources to dig deeper into Ancient History and enrich some of the chapter books.
We are using the copy work from the curriculum daily to practice handwriting, grammar, and spelling. Download a sample of the first grade curriculum.
We will also be beginning our book of centuries this year, which will be a long-term elementary project for the whole family. See how to make your own accordion timeline and book of centuries.
We aren't following the BYL guides for Science or Art this year, but they are included in the program.
---
Reading
Because my son is reading fluently, I've decided to skip the formal phonics program this year and encourage his love of reading through a few apps that we've really enjoyed. We will be working on spelling and grammar through copy work as well as using a few workbooks (see below) loosely throughout the year.
If you are looking for a learn-to-read program, we had success using leveled readers, Hooked on Phonics, Progressive Phonics (free printables), and Bob Books.
Reading Eggs
We were so excited to try an extended Reading Eggs and Reading Eggspress trial this summer, and I'm happy to continue it for first grade. This child-paced program includes rich reading materials and games as well as spelling, grammar, comprehension, and fluency practice. My son loves it, and I'm happy to use it for "quiet time" for about an hour a day while my younger children nap.
I will have a full review of Reading Eggs up August 30th. Until then, download a free trial. Reading Eggs – Free 2 Week Trial
Epic!
We love our library, but this year I'm trading in my rolling library cart for a subscription to the Epic! reading app. There's something about digital books that is very motivating for my kiddos – especially when we can find the same books we've read together. Plus, I'm not hauling a backpack full of library books everywhere we go.
Epic! has a huge variety of books to choose from, and works on his Kindle, our laptop, and my phone. Check it out with a free 30 day trial.
---
Living Math
Math Basket
The most successful part of our math program last year was our Math Basket. This year I'm scaling it back and creating a basket just once per month (as opposed to once a week). See what's in our math basket.
Math Literature
We will continue adding Math to our read aloud time and bedtime stories with Sir Cumference and Bedtime Math along with many of our old favorites and whatever new titles we discover in the math section of the library! 110 Math Literature Books for Early Elementary
---
Secular Homeschool Science An Eclectic Mix!
My son just loves science. We use a huge variety of resources. I've gathered them all in a post here: 7 Science Resources to Engage, Excite, and Inspire Your Child
---
Arts
Music – SQUILT
My son expressed some interest in learning an instrument this year, but I'm not quite ready for that level of commitment. We are starting with Meet the Instruments from SQUILT.
I love this program because it is not a week-by-week curriculum. There are instrument flash cards with ideas for games and activities and a slew of videos to listen to and learn from. Just what I was looking for – something flexible that will catch his interest.
Homeschool Art with Chalk Pastels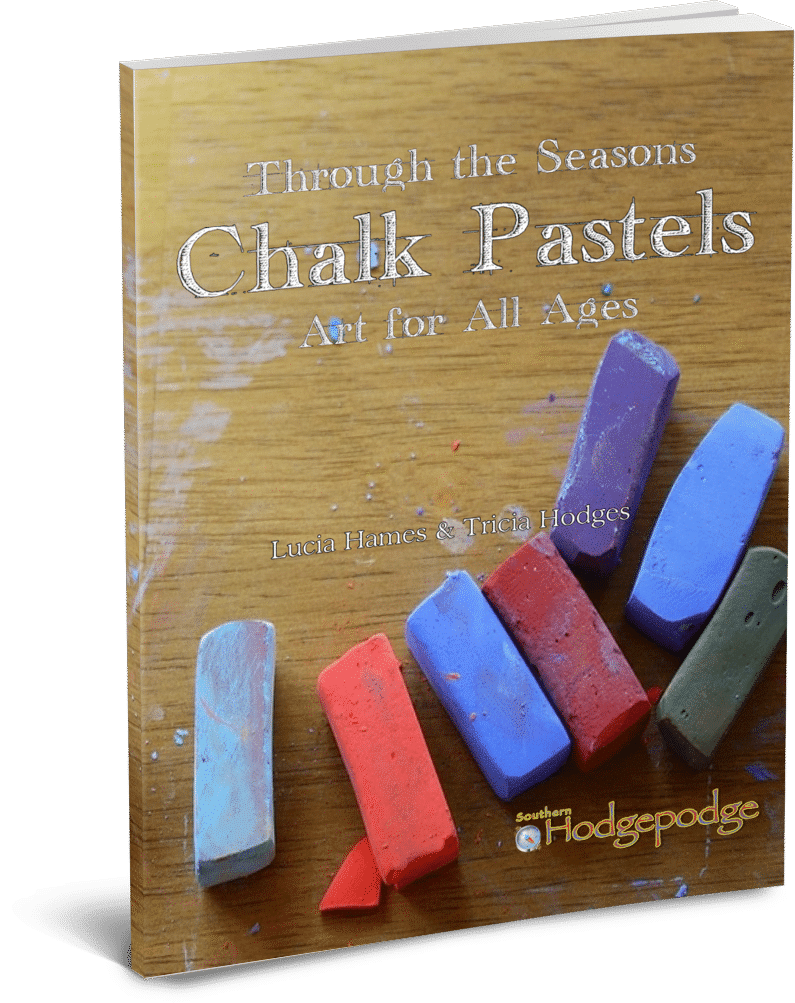 I'm using  Chalk Pastel, You Are an Artist for art this year. I'm excited to work on a few art projects together and talk about what art is, visit museums, and see real art. Last year we spent so much time just working on crafts and motor control. This year we get to explore!
Download a free getting started guide from Chalk Pastel.
---
Physical Education
Swimming & Yoga
My son is signed up for swimming – we do it year-round here in Florida! We'll also be continuing using Cosmic Kids Yoga. The kids LOVE it, and it gets them moving.
We spend a lot of time hiking, walking, scootering, biking, and on the playground. Between being active as a family, swimming, and camp I feel like PE is pretty much covered.
---
Supplements
Our favorites:
Around the World Apps & Sites
Science Apps & Sites
K-2 Apps & Sites
Educational Playlists
Workbooks
My son loves the Discovery Learning workbooks from the Target dollar section, and we also bought the massive Scholastic Jumbo Workbook this year. He picked it out over the BrainQuest this year, and I was so happy because (1) it looked a lot meatier with more material on each page and (2) my eyes can't handle reading the colorful pages in BQ.
I don't assign workbook time, and we don't follow any kind of schedule. He just uses them as independent practice. He likes them a lot, and none of our other curriculum comes with workbook pages, so these are nice to have on-hand.
---
That about wraps it up! I'm so excited to really get into first grade. It was my favorite grade level to teach, and I just love this age.
"Doing school" will flow into the late afternoon and be part of our bedtime routine. We will learn on weekdays and weekends. We will follow the plan and other times completely disregard it.
It's going to be a fantastic year!
More homeschool curriculum on the Resource Room:

And don't miss our homeschool curriculum and supplement reviews!
Love checking out curriculum? Check out
iHomeschool Network's Blog Hop.
Ashley helps parents who want to homeschool find the resources they need to successfully teach their children. Ashley is a former teacher, current homeschooler, published author, and designer behind Circle Time with Miss Fox printables as well as the creator of this website, The Homeschool Resource Room.