I found out even as a special educator turned homeschooling mother of four that there are many reading programs for Dyslexia. It can become overwhelming for any parent.
Read on for 3 keys or criteria to look for to make sure that you will have homeschool success.
#1 Best Phonics-Based Reading Program for Dyslexia
The first thing to look for in a reading program for Dyslexia is that it uses the Orton-Gillingham approach. Orton-Gillingham approach is a teaching method that uses different ways to teach children with Dyslexia how to make connections with letters and sounds.
Once the child learns these skills (phonetic skills), then the child can put the sounds of each letter or blend (i.e. ch, th, sh, etc.) to form words. The main focus of this approach is helping children with Dyslexia with reading fluency, but it can also assist with reading comprehension.
I have learned as a special educator and homeschool parent, that when a child has a low reading fluency (i.e. reads the words slowly), it makes it difficult for the child to comprehend what was read. You can see it as that improving phonetic skills is a key that can open many doors to reading fluency and comprehension. Both of these skills are necessary for all children, especially those with Dyslexia.
---
Recommended Complete Language Arts Program
Logic of English
Logic of English is a full language arts program for ages 4 – 8 and up. This curriculum provides Orton-Gillingham phonics instruction as well as a thorough, scripted teacher's manual for one-on-one instruction in reading, spelling, handwriting, vocabulary, composition, and grammar.
---
#2 Best Hands-on Reading Program for Dyslexia
The second thing to look for is that the program uses a multisensory approach. Multisensory is just a fancy word for using your different senses to learn new skills. The three main senses that are used during a multisensory approach are visual (seeing), auditory (hearing), and kinesthetic (doing).
Some children with Dyslexia will learn greatly with one of the senses whereas others might learn best by using two or all three of the senses.
My twelve-year-old daughter with Dyslexia learns best by seeing and doing. So when we found a reading program that worked for her, the one that worked best had visuals on the sight word flashcards that could be flipped on a metal ring. This simple movement provided some hands-on movement for her as well.
When you are looking at a reading program for Dyslexia, take a look at how your child learns best.
---
Recommended Multisensory Phonics Program
All About Reading & All About Spelling
These two All About Learning series provide direct, complete, Orton-Gillingham instruction & phonics-based learning for kids based on a placement test and generally used for preschool – grade 6. This open-and-go program provides a scripted manual for parents and short, hands-on lessons for children. Their approach is multisensory on all levels with interactive kits, letter tiles, and an app.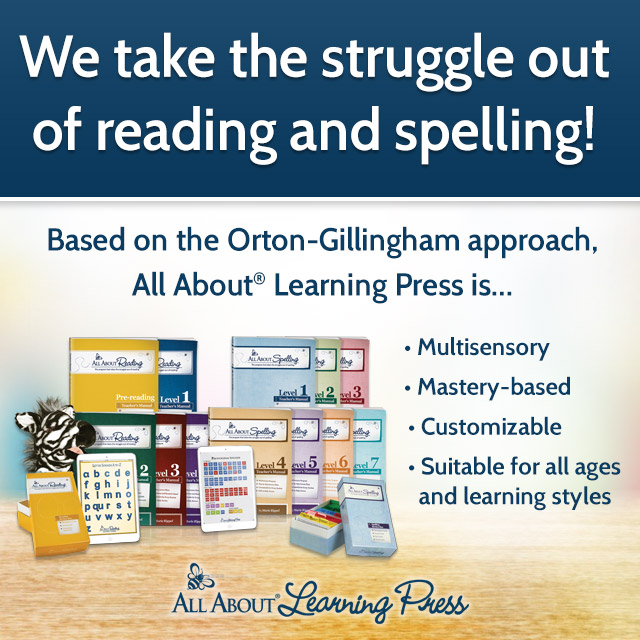 Check out why we chose All About Reading for learning to read!
---
#3 Best Direct-instruction Reading Program for Dyslexia
The third key to look for in a reading program for Dyslexia is it uses direct instruction approach. Direct instruction is a sequence of how to teach a skill. The following are the steps to provide direct instruction:
Step 1: Review previous skills
Step 2: Discuss which skill will be taught and if possible, why
The why's help children with Dyslexia make the connection between the skill and its purpose.
Step 3: Teach and model the new skill.
Step 4: Provide guidance so the child can practice the new skill.
Step 5: Have the child independently do the skill.
Step 6: Evaluate whether or not the child knows a new skill.
When you have provided direct instruction for a new reading skill, it is important that you provide extra opportunities to practice the skill. As a special educator, when a child can do the skill correctly and independently three to four consecutive days, the child has mastered it.
Then it is important to make sure that the new skill can be used for different things in different settings (i.e. When the child has learned the new skill of reading "ch" words, have him/her read ch words in other books, magazines, texts, etc.).
Another thing that I love about using the direct teach instruction method is that it provides consistency. Consistency is important for children with Dyslexia. I know with my daughter that a lack of consistency can increase her anxiety.
---
Recommendations for Help with Direct Instruction
Both curricula above, Logic of English and All About Learning Press, provide direct instruction in reading, phonemic awareness, and phonics. However, some children may still struggle.

If you need additional support for your child at home, we recommend looking into courses on Outschool. Here you will find in-person virtual reading programs with teachers in a variety of subjects. New sessions for reading instruction are starting soon and can provide targeted skill practice or more general reading instruction and support for your child.
Find dyslexia-friendly programs on Outschool here.
---
Final Thoughts
It is important to make sure to find a reading program for Dyslexia with the three keys for homeschool success.
✔ Orton-Gillingham approach provides phonetic, fluency, and reading comprehension skills in a way that makes sense to children with Dyslexia.
✔ The multisensory approach allows children to learn the way that they learn the best (i.e. visual, auditory, kinesthetic). This is important because each child is different. For example, my youngest learn best by using visuals and hands-on materials. Her big sister, however, learns best by listening and doing.
✔ Direct instruction provides guidance for parents on how to teach a new skill and for the child it provides consistency. I hope that these three keys help you choose the best reading program for your Dyslexic child.
ABOUT THE AUTHOR
Tracy is a mother of four (ages 11 to 17), former special education teacher for nine years, and currently an Extended School Year teacher for children with disabilities and freelance writer.
Tracy's recommendations for choosing books for kids with Dyslexia
For a side-by-side comparison of ten top phonics programs see our Phonics Curriculum Guide post.
Ashley helps parents who want to homeschool find the resources they need to successfully teach their children. Ashley is a former teacher, current homeschooler, published author, and designer behind Circle Time with Miss Fox printables as well as the creator of this website, The Homeschool Resource Room.