Homeschool subscription boxes are a great way to supplement online learning. Subscription boxes are a great way to keep kids engaged and involved in the learning process. It is also a simple solution that is easy for parents and fun for kids. Subscription boxes have come a long way in the past few years – you can find a box to suit almost any age level and interest.
We love using subscription boxes in our homeschool. My kids love getting mail that is just for them. The boxes always contain new and novel ideas, and all of the materials you need are in right there. I love that we always have what we need to do the projects since it is too much trouble to take three kids to the store to get extra materials – especially in 2020!
Now that my son is a little older (9), he can do all of the reading and follow the directions himself. In many cases, he can lead the activity for his younger siblings. This helps him develop his leadership skills and keeps all of the kids occupied with something educational.
If you are doing virtual schooling, subscription boxes give your kids a chance to do some hands-on activities. You should choose boxes that suit your kids' interests. Your school covers all of the core subjects, so boxes should be enriching and exciting learning opportunities!
You can find all sorts of boxes – for every kid – scientists, artists, nature lovers, and more. Read on for 12 subscription boxes we recommend as an excellent supplement that your kids will love.
---
1) For Little Mad Scientists:

MEL

Kid

s Science Kits

(Ages 5-8)
If your younger kids love science, the MEL Science Kits have some great boxes. Once you sign up for a subscription, your kids will receive a box focused on a science topic like pressure, sound, or aerodynamics. Each kit includes a science kit, building set, activities, educational comics, and more. You can also download an AR app that works with the items in the box.
These kits are great for budding scientists because the activities are incredibly hands-on. Kids get to build, experiment and explore. Each box does a deep dive on a science topic, helping to enrich your kids' understanding of science.
---
2) For Bigger, Madder Scientists: MEL Science – Physics and Chemistry Boxes
Chemistry
MEL Science offers chemistry boxes for older kids who have a passion for science. The set begins with a Starter Kit that your child will use throughout the program. You will receive a beaker, flask, VR headset, macro lens, tablet stand, safety glass, tray, and a solid fuel stove.
Each month after that, your kids will receive a box centered around a chemistry topic with two or three experiments. You will get all of the materials you need and step-by-step instructions. I love that you get enough materials for a second attempt – perfect for if you mess up (like we often do) or if something is so cool, it deserves a second look. Extend the experiments with virtual reality and video lessons that go with each box.
Physics
The MEL Science Physics program is similar to the chemistry program, but with a focus on physics. Each box includes up to three experiments focused on a physics topic like light or vacuums. Projects often involve assembling cool devices like a projector or microphone. MEL Science Physics makes learning very hands-on. You will receive all materials, detailed instructions, and also free VR lessons and can access video instruction to go with each box.
---
3) Homeschool Subscription for Nature Lovers: THiNK OUTSiDE Boxes
If your kids love nature (or if you just want to get them outside), THiNK OUTSiDE boxes are fantastic. Each month, your kids will receive a box centered around a nature theme, such as nature, fire, wildlife, and shelter. The boxes are planned around the seasons so that the activities fit the weather outside.
Each box comes with a few pieces of real outdoor gear (not plastic toys), resource cards, an activity booklet, challenges for your family to complete, and more. One of the best things about these boxes is that they are not "one and done." Each box also contains materials for a few activities, and the gear can be used over and over.
THiNK OUTSiDE is especially excellent as you can include younger kids if you plan to use it as a family and great for older kids who enjoy learning more independently. These boxes will get your kids outdoors and teach them some survival skills.
To learn more about THiNK OUTSiDE boxes, check out our review.
---
4) Homeschool Subscription Boxes for Book Lovers: Bookroo
Bookroo is a book subscription service made for kids ages 0-10. There are three different levels for all stages of readers. Firstly for your youngest readers, the ages 0-3 box comes with three board books. Next, the age 2-6 box comes with two hardcover picture books, ideal for read alouds and beginning readers. Finally, the ages 7-10 box comes with two chapter books and is for kids who are ready to read longer books.
There are a few elements that make Bookroo boxes unique. Each book is individually and beautifully wrapped, literally giving kids the gift of reading. Your kids will also receive exclusive information from the authors and illustrators. The goal behind Bookroo is to introduce kids to new and quality books that they may not otherwise read.
---
---
5) Homeschool Subscription Boxes for Future World Travelers: Atlas Crate
Atlas Crate is perfect for kids between the ages of 6 and 10 who want to learn about other cultures. It's also suitable for kids who love to travel. The first box your child will receive is the World Crate. This box introduces kids to the program and also teaches some fundamental map skills that kids will need throughout the boxes.
The following boxes each focus on a tour of a specific country and culture. Additionally, kids will learn about the country, its history, and its people through crafts, experiments, games, and food. The crates also come with cards full of information about the country that can be added to your child's world book that comes in the first box.
---
Groovy Lab in a Box is a STEM-themed subscription box service aimed at kids ages 8 and up. Each box features a different STEM challenge, such as creating a new soap prototype or designing a catapult. The box comes with everything your child will need to complete the challenge, including all materials, a lab notebook with over 20 pages to guide your child through the challenge, and also links to a website to extend their knowledge.
Groovy Lab in a Box has won numerous awards. We love these boxes because they involve hands-on learning and challenges that develop engineering and critical thinking skills. These boxes don't just teach kids STEM topics – they actually get kids applying STEM topics.
---
7 & 8) The Artists in Your Family: Doodle Crate (9-16) or Maker Crate (14+)
If your child loves to craft and make things, Doodle Crate is one of our favorite homeschool subscription boxes. Each box gives your kids a chance to create something new, using different materials and methods from the box before. From a felt garden to a leather portfolio pouch, your young makers will develop crafting skills and creativity.
Each crate comes with everything you need to complete the project, including materials and detailed instructions. I love that I don't have to run to several stores for crafting supplies.
If your child is a little older and a little more skilled, Maker Crate allows your kid to develop some pretty amazing design methods. Kids will create items like macrame planters and punch-needle pillows. Everything you need is also right in the box, including instructions.
This crate is ideal for older kids because the finished products look like something from an Etsy store. Your kids won't feel like they're making cute little crafts, but rather incredible designs. Your kids can use these new design skills as they make more amazing stuff.
---
9) The Homeschool Subscription Boxes Environmentalists will Love: Green Kids Crafts STEAM Box
Green Kids Crafts STEAM boxes are perfect for younger kids who are getting into STEAM. You can choose between two subscriptions – Junior for ages 2-4 and Discovery for ages 5-10+. You also have the option to switch boxes, so if the box you choose is too easy or too advanced for your kids, you can always adjust.
Each box contains up to six STEAM kits and an activity booklet to help your children complete the projects. Additionally, boxes are focused around a science topic like amphibians or electricity. Your child will create crafts and experiment to learn more about each topic. Each box also includes all of the materials you need to complete each activity.
---
10) Curious and Creative Kids: Kiwi Crate
Do you have a kid who is just curious and wants to learn about everything? Kiwi Crate is an awesome combination of science and creation for kids ages 5-8. These crates get kids exploring and creating with fun projects like learning about flight through building stomp rockets and kites.
Kiwi Crate is the ultimate hands-on box – not only do kids get to make things, but they are encouraged to innovate and tinker with their designs. Additionally, each crate comes with all the materials needed to do the projects and detailed instructions.
---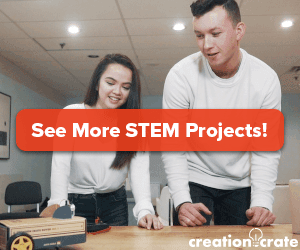 Creation Crate provides hands-on projects for kids who love technology and is geared towards ages 12 and up. The subscription begins with a UNO R3, a breadboard, and all needed components. Your kids will then progress through a monthly curriculum with each lesson focused on learning programming using C++ and the UNO R3.
Creation Crate is a cool program because each new crate lets kids build on the previous crate's skills. It also makes learning fun as kids get to use programming to make games and cool objects like lamps.
---
12) Homeschool Subscription Boxes for Little Ones Who Want to Get in on the Fun: Koala Crate (ages 2-4)
If you have a little one, he or she may be jealous that older siblings are getting a box. Your little one doesn't have to miss out. Koala Crate is designed especially for toddlers and preschoolers. Each Koala Crate is themed around a type of play, such as a pretend trip to the doctor or learning about the ocean.
What we love about Koala Crate is that it is more than just toys. The boxes also include art projects, games, and activities that encourage developing skills like math, science, empathy and more. The boxes come with all of the materials you will need, a board book, and booklets to help guide your child's play.
With all of the excellent homeschool subscription boxes on the market, you are sure to find the perfect one to suit your children's interests and keep them learning all year long!
Ashley helps parents who want to homeschool find the resources they need to successfully teach their children. Ashley is a former teacher, current homeschooler, published author, and designer behind Circle Time with Miss Fox printables as well as the creator of this website, The Homeschool Resource Room.